Schedule
Central Oregon 2018
---
Saturday, October 6th 2018
Time: 10:00AM to 5:00PM
Deschutes County Fairgrounds EXPO CENTER
Middle Sister Conference Hall
3800 SW Airport Way
Redmond, OR 97756
Location: The Deschutes County Fairgrounds & Expo Center located in Redmond, is the geographic Hub of Central Oregon, is a well-planned and supportive venue, as well as being easily & quickly accessible to all the surrounding towns. https://expo.deschutes.org/expo/page/middle-sister
FOOD ON SITE!!!
Health Conscious Concession Stand serving Homemade Soups, Made to Order Sandwiches, Salads and Much More….
The 1st annual Central Oregon BOOMERAMA 50+ Health and Age Less Living Expo is produced "by Boomers, for Boomers". BOOMERAMA is an annual celebration of those 50+ Baby Boomers and beyond who choose to "Re-fire" not Retire.
Join us for this fun filled and information packed event that brings a positive and life affirming message to the ever growing Baby Boomer and Senior population of Central Oregon. Picture an Educational Summit, a Home & Garden Show, Travel Expo and a Health & Wellness Fair all rolled into one, but with the focus being on Baby Boomers/Seniors and their loved ones.
As an attendee, you will have access to a select group of local/national companies who want to earn your business and expert speakers covering a range of topics from:
Assisted Living Options
Senior Mobility Solutions
Handicap Mobility Solutions
Health & Fitness
Pharmacies & Pharmaceuticals
Insurance
Counseling & Mental Health
Non-Profit Organizations
Estate & Financial Planning
Wealth Management
Senior Housing Solutions
Bathroom & Kitchen Remodeling
Safety & Home Security
Government Agencies
Funeral Homes / Pre-Planning
Legal / Elder Law
Daily Living Aids
Lifestyle Products & Services
Communication Services
Computers & Technology
Gardening
2018 Sponsors
2018 Speaker & Workshop Line Up
---
Main Stage
OPENING CEREMONY AND ACKNOWLEDGEMENTS

11:15 am - Presented by Providence Health Assurance

Speaker -

Duration: 45 mins

BRINGING ORDER TO CHAOS… RESTORING SANITY

12:00 pm - Mt. Bachelor Assisted Living and Memory Care Presents TAMMIE TO THE RESCUE

Speaker - Tammie Barber

Duration: 45 mins

---

FEATURING KEYNOTE SPEAKER DR. ANABEL PELHAM, Ph.D.

ADVANCING AGE FRIENDLY COMMUNITIES

1:00 pm - Council on Aging of Central Oregon Presents

Speaker - Dr. Anabel Pelham Ph.D. Professor

From - Center for Age Friendly Excellence. (CAFÉ)

What is an age-friendly city? How do you know if your city is working on becoming more age-friendly? Who started the age-friendly cities movement and why is it important for all generations? How can we begin the process in Central Oregon and join the international network? When is the best time to advance our communities and promote policies, programs and services that improve quality of life as we age and enhance respect, understanding and engagement of our diverse older adults? Join the discussion and help lead Central Oregon toward an age-friendly future.

Duration: 45 mins

LIVE MUSIC SESSIONS WITH KEN JOHNSON

2:00 PM - 5:00 PM

Duration: 3 hours
CLASSROOM A
STEM CELL SEMINAR

12:00 pm - Pain Relief Partners Presents

Speaker - Stephanie Jones, RN

Come join pain relief partners and learn more about Wharton's Jelly Stem Cells, the future of medicine.

Duration: 40 mins

MEDICARE 101

1:00 pm - Providence Health Assurance Presents

Speaker - Don Layton

Medicare is often overwhelming and confusing. You'll find this Boomerama session to be informative and well worth your time. When we're done, you'll have a clear understanding of how Medicare works, what your options are and why Providence may or may not be the right choice for you. Come join us and bring a friend.

Duration: 45 mins

IT'S DIFFERENT "OUT" HERE: PROVIDING DIGNITY AFFIRMING CARE FOR ELDER LESBIANS, GAY, BISEXUAL AND TRANSGENDER OREGONIANS

2:00 pm

Speaker - Melissa Adams MSW, LCSW

Duration: 45 mins

STEM CELL SEMINAR

3:00 pm - Pain Relief Partners Presents

Speaker - Stephanie Jones, RN

Come join pain relief partners and learn more about Wharton's Jelly Stem Cells, the future of medicine.

Duration: 40 mins

LIVING LOVE IS THE PURPOSE & SOLUTION - INSIDE AND OUT

4:00 pm

Speaker - Matthew McCarthy

Sometimes we resign to the grip of the past and the 'fact' that some relationships are a struggle. Of course, this doesn't feel good. We give up because we don't know the way or we have convinced ourselves we do while struggles continue. Come and explore how nurturing a state of love is the solution to all personal and worldly problems. A transformed life is a light for the world with many returns. You will be empowered with a very simple and reliable takeaway to totally transform your entire life - really. The con-artist inside may express doubt due to past attempts failing, or a belief that things are as good as they can get. I will show you otherwise. The possibilities are worth it - come hang out!.
CLASSROOM B
5 SECRETS TO 100 HEALTHY YEARS

12:00 pm - Plasker Chiropractic & Functional Neurology Presents

Speaker - Dr. Emily Plasker, D.C.

It's never too late for Boomers to start living their ideal 100 Year Lifestyle. In this session, you will develop a vision for an extended life span, learn how to get natural pain relief, avoid prescription drug dependency and get 5 secrets to a highly functional life as you age.

Duration: 45 mins

REVERSE MORTGAGE AS A FINANCIAL TOOL

1:00 pm - Fairway Mortgage Presents

Speaker - Martin Stewart

Is reverse mortgage right for you?
Myths and Confusion
How does it work?
Improving retirement income with reverse mortgage.

Duration: 40 mins

NEXT STAGE OF HOUSING

2:00pm - Rogue Real Estate Presents

Speaker - Peggi Schoning

Between 2010 and 2040 it is predicted that the nation's 65 plus population will grow by roughly 90%. This ballooning number of seniors will impact many industries and especially real estate. There are new challenges and opportunities to explore.

Duration: 30 mins

SUBSTANCE ABUSE IN OLDER ADULTS

3:00pm - Gero Care Solutions Presents

Speaker - Tim Malone, LCSW

Receive up-to-date information on the dynamics of substance abuse among the 65+ population. What it looks like, how to tell if someone is using, what are the first steps to take to deal with the problem.

Duration: 45 mins



2018 Highlights & Activities
---
Tammie to the Rescue

Sponsored by: Mt. Bachelor Assisted Living & Memory Care, Featured Guest, Tammie Barber of Tammie To The Rescue

Bringing Order to Chaos...Restoring Sanity.

Pain Relief Partners

Wharton's Jelly Stem Cells, The Future of Medicine

Seminars are Free of charge and offered once at 12:00 pm and again at 3:00 pm
2018 Exhibitors
---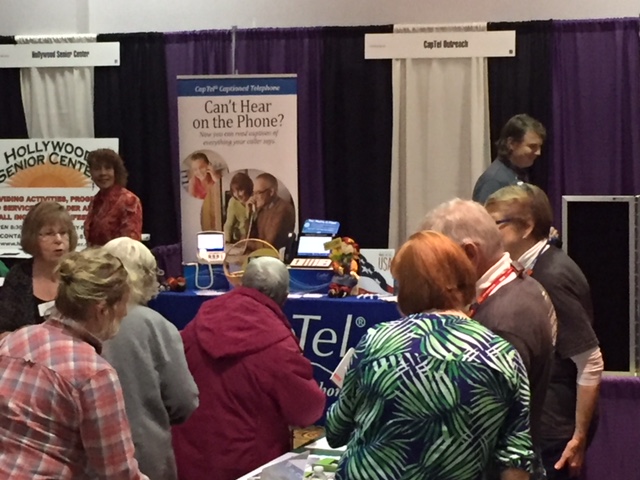 2017 Portland Boomerama
Ablis #28
Alzheimer's Association Central Oregon Office #73
Bath Techs #51
Bend Senior Care Management #36
Bend Sunrise Lions #52
Brookside Place Assisted Living Community #13
Cascades of Bend Retirement Community #33
Central Oregon Veterans Outreach (COVO) #69
ClearCaptions #29
Country Financial #30
Fairway Independent Mortgage Corporation #61
Family Choice Urgent Care #16
Food & Drink Concession Booth (Special Diet accessible) #70 & #71
Garden Tower #7
Heart N Home Hospice and Palliative #40
Hurley Re P.C. #53
Juice Plus #7
Juniper Springs Senior Living #34
Life Saver Photo Solutions #62
Mt. Bachelor Assisted Living & Memory Care #39
My Daily Choice/Hemp Worx #63
My Hearing Centers #35
Niswonger-Reynolds Funeral Home #52
Pacific North West Audiology, LLC #15
Pacific Source Medicare #12
Pain Relief Partners #31
Partners In Care #37
Results Neck & Back Therapy LLC #14
Rogue Real Estate #50
Senior & People With Physical Disabilities Offices: Bend, OR #68
Stone Lodge #38
The Alexander at the Butte #58 & 59
The Lodge In Sisters #30
Touchmark at Mount Bachelor Village #60